Site Details
Videos:
300+ Videos
(Average Length 20 minutes)
Watermarks:
Yes
(Small-Sized)
DRM Protection:
No
(No license restrictions)
Pictures:
300+ Picture Sets
(w/ 200 Pictures Per Set)
Pricing
Monthly:
$29.71 for 30 days
3 Months:
$74.13 for 90 days
1 Year:
$147.72 for 365 days
Pros
Exclusive content
Regular updates
Nice 4K videos
Cons
no content or model tags
no advanced search
October 25th, 2018 - By Banging Reviews
Those of you who are looking for a site that has a jerking off theme, where stroking of the penis by hot women is the main focus, Strokies.com will deliver POV handjob videos that are bound to get you hard, excited and eventually mellow, without a doubt. The videos are exclusive, the models are semi-pros and pornstars, and the whole premium aspect of the site is delivering what it bargains for – straight HD delight. It is all about handjobs, the slippery and messy ones, and that is all that the fans of this niche care about.
Brittany Shae and Anabelle Pync jerking a cock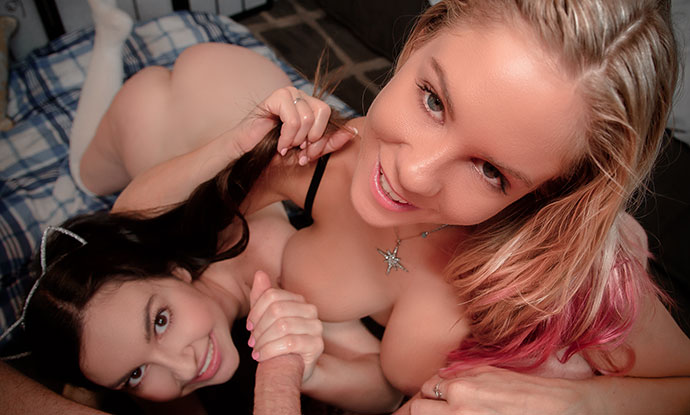 The moment you land on the Strokies.com page, you will be met with the latest video and 5 options to download it. You will be presented with a range of video qualities to grab starting at 240p to HD and even the 4K one, that is a bit bigger in size but still, it is well worth it due to its crispy look and great HD properties. The videos can be streamed on Strokies.com or you can download them, and it is always good to see there are no download limits. Scrolling down the main page, you will see the latest handjob videos, along with all the models that are featured in them. That is the second point that has to be made. The models are semi-pro and pornstars as mentioned before. This means that some of the models you will know from before and these are girls with a lot of experience. However, it was nice to see that some girls are totally new and fresh faces, most are really cute and attractive. This does not mean that they are amateurs and that they have no idea how to make the scene work. This just means that Strokies.com made sure to find quite the number of faces that are not as exposed as some others are. This brings exclusivity to the table and that raw feeling that a jerking off video like the ones on Strokies.com is looking to deliver.
Sloppy handjob by Little Mina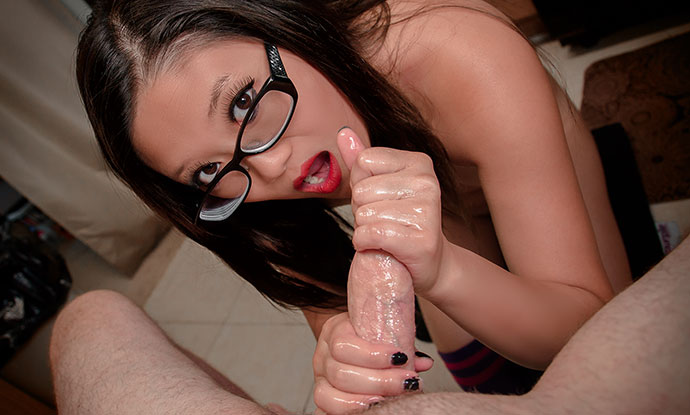 The handjob videos themselves look awesome. They are done in a POV angle, the camera is handheld and it's shaky but just enough. The models are 18 to 24 years of age and their acting is just enough. Not too real, but not too fake either. The main draw is the jerking off of the cameraman's dick, and with some imagination you can start to think the girl is giving you the handjob. Usually, the girls are using lube, making the scene very raw, wet and sloppy. The lighting is on point, and the overall look is a bit amateurish but you can tell that the whole production is slick and that the guys at Strokies.com have enough needed experience to make the videos work.
Petite Catt Cummingtons Strokes While Rubbing Kitty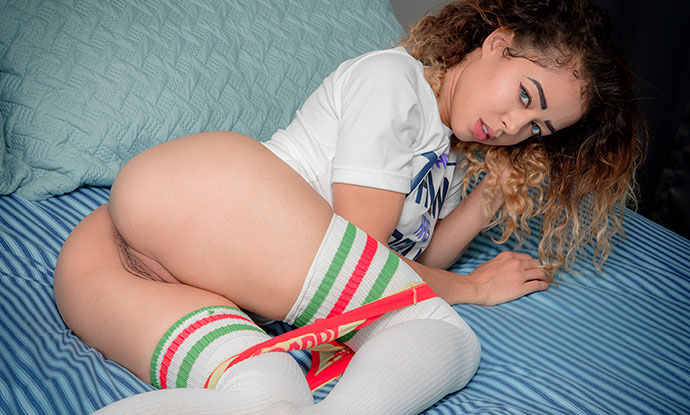 Each video buffers up well and fast, the videos come along with the pictorials which can also be grabbed in a ZIP file. Now, the first video was uploaded back in August of 2015. This means that Strokies is around for 3 years and counting. There are around 300+ videos and they are all around 20 minutes long. The downside of it all is that the videos that were uploaded back, in the beginning, had a nice description to them and they had the tags to go with them. The latest ones, don't. This just might be the lack in the editing of the whole video presentation, but for a premium site like Strokies.com these minor flaws are always enhanced three times than they would be on any tube site since the expectations are way bigger. And do not forget every scene comes with a set of hundreds of high quality pictures which can be downloaded very easily in a ZIP file.
If you wish to become a member you have a choice of taking a 1-month membership, that's going to run you about $29.71. For a month you can see many amazing handjob movies, download them and get the feel if you want to signup for a 3-month membership which is $24.71 per month or that golden one-year membership, that's going to take away $12.31 per month out of your pocket. Considering the content and the value that Strokies is offering, this is a fair deal.
Summer Brooks Is A Petite Young Fist Fucker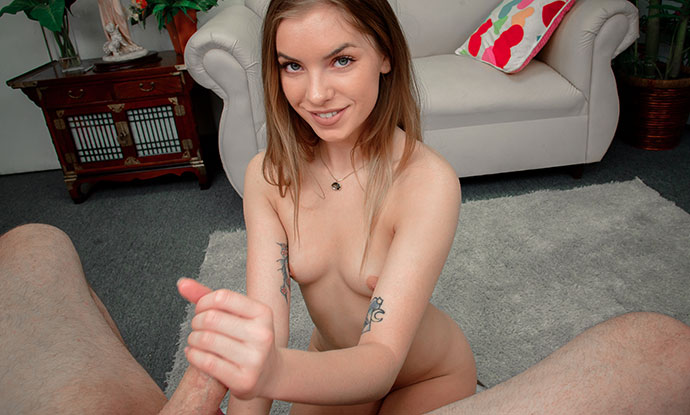 Conclusion
All things considered, Strokies.com is one of the upper echelon handjob sites out there. They have plenty to offer, the videos are all exclusive, they are updating on a regular and their prices are fair. Those who are fans of this genre should at least check out some of the videos and decide if they want to become members since the value offered up by this team in the POV handjob niche is by far ahead of the curve. See it for yourself and check out Strokies.com.
User Reviews
Comments are closed.