Kit Mercer on Pure Mature
Lustful 35-year-old nurse Kit Mercer is taking extra good care of her mostly younger male patients. In this Pure Mature video, you'll see why the service this gorgeous, sexy MILF nurse has been giving is top-notch.
This unlucky dude hurt his ankle pretty badly while during a workout. So, unfortunately, he can't go to work or anywhere else for a week because he has to give his foot some rest to let it fully recover and heal.
Luckily for him, he got his very own nurse to take care of him this week for a few hours every day. Isn't it funny though, who knew hurting your ankle and having to stay at home on the couch for a week would turn out to be one of the best things that could've happened to this lucky guy?
Lustful MILF nurse takes extremely good care of her male patient
As the dude hears the nurse coming in to help him get his ankle healed and to take care of him for a couple of hours today, he's just taking a short nap on the couch with his foot resting on a pillow. But he has no idea that his boring day is going to take a turn for the better.
The nurse is going to the bathroom first, but that's fine, maybe she needs to prepare something for him for when she comes to give him his sponge bath. Whatever it is, she should be fine. Little does he know though, his lovely sexy nurse is warming up her pussy, just for him. She's making her MILF pussy all wet and juicy, ready for what's about to come.
A couple of minutes later, the guy wakes up from taking a nap while laying on the couch, he slowly opens his eyes and… it's the stunning blonde MILF in a super sexy nurse outfit standing right in front of him.
It takes a moment to wake up realize this is the nurse who's supposed to take care of him and his foot today. Well, my dude, this MILF nurse will definitely take care of you today, because it's nurse Kit at your service!
"I know you've been pretty bummed about hurting your ankle, so I thought I'd put on this sexy nurse's outfit and come and take care of you!"
This patient's sponge bath turns into a steamy fuck session
The gorgeous Kit Mercer is wearing one of the sexiest nurse outfits a woman could wear. It's white and red in color and her tiny skirt barely covers her big round ass and the red panties she has on.
Also, those white thigh high stockings fit perfectly well on her beautiful long legs and thick thighs. Obviously, this nurse is ready for something, you can probably guess what, and it ain't taking care of her patient's ankle.
It's pretty obvious, it doesn't seem like she wants to have a look at his ankle at all. This gorgeous blonde lady is in heat, she's way more interested in what the guy has inside of his pants and in between his legs. A nice big cock she can have a lot of fun with this week!
"Just make yourself comfortable. First we'll have to give you your sponge bath."
The nurse already brought a bottle of lube with her. This isn't just going to be a simple sponge bath, this sexy nurse is craving for her patient's thick hard cock!
As you can guess, for the entire week, slutty nurse Kit will be taking super good care of her patient's big cock. Kit Mercer in her sexy nurse outfit will be completely draining the cum out of this lucky guy's balls with her wet MILF pussy in this premium Pure Mature video.
Episode: Nurse Kit At Your Service
Download and stream this video in 4K Ultra HD (2160p) or Full HD (1080p)
| | | | |
| --- | --- | --- | --- |
| Pornstar(s) | Kit Mercer | Released | 09.23.2020 |
| Length | 47 mins | Full HD | Yes |
| Episode | Nurse Kit At Your Service | 4K | Yes |
| Website | Pure Mature | | |
This episode is available in 4K UHD and 1080p Full HD
This premium 47-minute Pure Mature video "Nurse Kit At Your Service" with sexy MILF Kit Mercer, is available to stream or download in 4K UHD (2160p) and 1080p Full HD. To watch the full episode go to PureMature.com.
Here on Banging Reviews, you can always find more high-quality porn videos, just like this one. For this, we suggest you discover the premium porn videos we added. Only the best episodes from premium porn sites can be found there.
Images of Kit Mercer in Pure Mature Video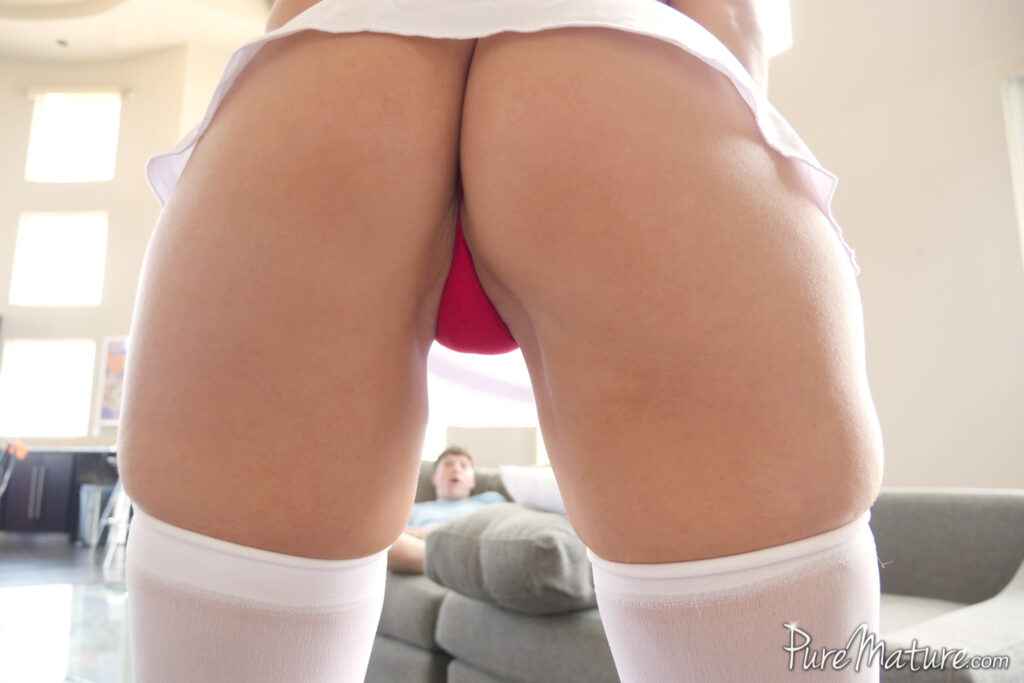 Pure Mature Review
Besides this exclusive video with Kit, there are 400+ other fantastic scenes in 4K quality with mature ladies, cum hungry MILFS, hot seductive stepmoms, and unfaithful housewives living out your ultimate fantasies.
Pure Mature has been one of our favorite premium porn sites for quality mature and MILF porn. They do it the right way with weekly updates, and stunning mature women in a large collection with hundreds of great hardcore scenes in 1080p Full HD and super-sharp 2160p – 4K Ultra HD.
For more amazing mature smut read the Pure Mature review we did and see why we think it's such a great site. It will only take a moment of your time to go through it, see the pros and cons, the best deals, and more.
The Pros:
4K Ultra HD Video
1080p Full HD Video
Exclusive content