Sex Tech Is Getting More Advanced
Despite earlier skepticism, high-tech sex devices are currently on the rise. Following the patent on remotely controlled sexual aids' expiry in 2018, interest in teledildonics has skyrocketed.
According to recent statistics, 15% of Americans, 12% of Britains, and 10% of Australians use sex toy applications (such as app-controlled vibrators). However, specialists believe that during the next several years, they will play a significant role in all of our sexual lives.
This is a huge uptick in the sales and reported use of sex toys on the tech front, and it gives hope to many of the tech sex toy developers. For many years, squeamishness and "anti-vice" attitudes made it difficult for business owners to secure financing. That doesn't seem to be an issue any longer, as people of all ages and backgrounds have been expressing an interest in sex toys with additional tech.
Investors, meanwhile, are beginning to view sex technology as an exciting possibility as opposed to something to stay away from. You can read more on sex technology at XRatedTEch, and see further product reviews as well. The market for sexual wellness was worth a total of $39 billion in 2017 and is anticipated to grow to a value of 123 billion dollars by 2026. Within that, the $30 billion-per-year sex technology sector is expanding at a 30% pace.
The phrase "sex tech" refers to a broad range of technologically enabled goods and services, from sexual augmented and virtual reality as well as porn to sex robots and instructional applications and platforms like Ferly and OMGYes. Most people view sex tech as a positive, and in the body positivity and sex positivity crowds, this has become a popular place to point out and say that progress is being made.
Some of the more commonplace improvements in toys are the availability and low cost of ion batteries, which increase the usability of USB rechargeable sex toys. More electrical toys are now totally submersible and can be used inside the bathtub thanks to advancements in silicone casing.
In the more upscale segment of the market, mobile app-controlled toys let lovers excite one another from various time zones. These "smart" vibrators have sensors for temperature and pelvic floor motion trackers built-in, and some even provide performance-enhancing advice.
Keep in mind, there are many variations on the following tech sex toys, however, the list that follows has shown positive feedback and trending sales. The following list of the top five innovations includes:
WeVibe Sync
The first couples vibrator from WeVibe was released in 2008, but the greatest recent model, the Sync, has Bluetooth functionality and mobile app connectivity. The gadget, which is meant to be worn throughout intercourse, may be controlled by a remote or an app.
Additionally, the Sync may be adjusted by users, allowing for a more customized experience (an issue that was not available with prior versions). This allows it to better match their body shape. The we-connect app may be used to operate the vibrator remotely anywhere in the globe, and the remote control is only effective up to a range of 10 feet.
Even better, you can program it to tremble in rhythm with your phone's music. It is also USB rechargeable and completely waterproof.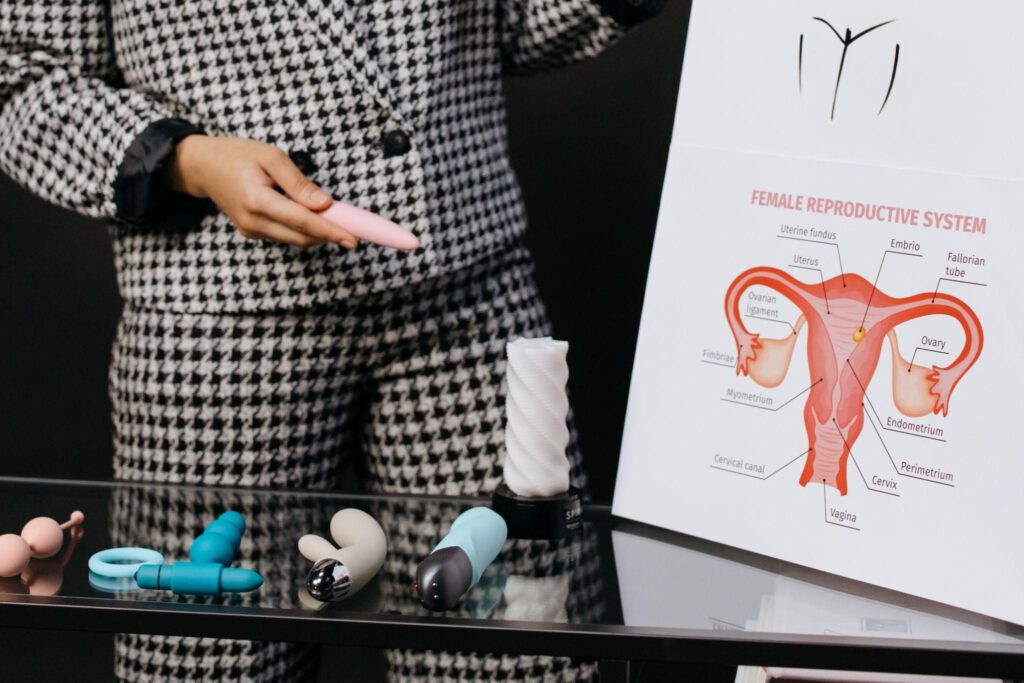 Smart vibrator from Lioness
The Lioness first resembles other vibrators in the rabbit design. But once you connect it to the smartphone app, you can monitor your motions, degree of desire, and even view a picture of your own climax.
Pelvic floor motions, which are thought to be the greatest indications of arousal and orgasm, are tracked by sensors in the toy. Temperature sensors determine your core body temperature, while a vibrator's accelerometer and gyroscope monitor how you use the vibrator.
According to the creators, this offers an enjoyable approach to discovering additional information regarding your physical attributes and sexual desire. Users are also advised to keep notes about each encounter so they may see over time how factors such as stress, alcohol, coffee, or fatigue impact their desire for sex (https://plato.stanford.edu/entries/sex-sexuality/) and enjoyment.
The Lioness has a vibrator in the shape of a rabbit that you can track by connecting it to the app on your smartphone.
Condom Smart Con
Although it has a deceptive name, this device is in no way a condom. Instead, it is a ring that can be adjusted to be worn on top of a condom. The device's designers assert that it evaluates sexual performance, the length of the session, identifies various postures, and counts calories, giving it the nickname "the Fitbit for sex."
The gadget is impermeable to water and USB rechargeable. The iCon app then stores this data after it has been sent via Wifi to your smartphone. people may discover more about their routine sexual behavior, search for trends, and even anonymously compare their data to that of people all across the world to see how they fare.
Lovely 2.0
The Lovely 2.0 serves as a similar wearable ring that links to an app, but it is designed to enhance the experience and gather data on your sex life. It offers extra stimulation for both couples with eight vibration patterns that can be adjusted via an app from any location around the world.
When paired with input from you, which you are urged to put into the app, the Desire-SensingTM technology learns what kind of sensations and pursuits you use and love most. This information is used to provide tailored suggestions.
Onyx2 and Pearl2 Lovers Set from KIIROO
The KIIROO collaborative couples sets, which target individuals with long-distance relationships, have his and her stimulators that communicate via an app.
In this specific set, the Pearl's motions are detected by sensors and sent through the Onyx (in fact, there is also a Pearl2 or Fuse combination for women and an Onyx with Onyx set). Users may now experience the same feelings in real time thanks to this. A different option is to utilize the app to manage the vibrations and synchronize them with interactive media like films, games, virtual reality, and even webcam performances.